Pakistani suit salwar have always been beautiful ethnic attire every woman loves to wear on any occasion not only in Pakistan but all over Asia and specially in India. The Pakistani salwar suit has been very famous because of its designer work of jari, net and chiffon; these are heavily embroidered and attractive salwar suit designs for some special occasion. Different designer Pakistani suits online collections are available for women.
Pakistani Lawn suit
Lawn suits are a very famous Pakistani salwar kameez. It is worn by most of the ladies around the year as it is very comfortable and very affordable. It is made up of lightweight cotton and sheer fabric with light texture and velvet surface which gives it a glossy and lustrous look. It has a long straight kameez which is made up of good quality cotton fabric and it is paired with a churidar pant and chiffon dupatta.
Pakistani Patiala salwar kameez
Patiyala salwar kameez is a very famous design for salwar suit pictures popular among women of every age. It comprises a long kurti or tunic which is paired with Patiala pants and dupatta, dupatta can be heavily designer.  The Patiala generally comes in solid colors and pastel colors which are made up of a single color whereas the kurti is multicolored and designer.
Pakistani Gown style kurti salwar kameez
Gown kurti or ethnic kurta with a field base which gives a look of a gown or a dress and it is very attractive during parties. Generally it is a solid color dress but most of the people prefer designer and multi-colored gown style kurti salwar kameez.
Long straight cut churidar Punjabi suit
Churidar salwar suits can never go out of fashion. It has been worn by ladies and it is the most popular type of salwar suit worn by women. This is referred to as daily wear as well as party wear. It is very comfortable with a long straight kurta and a tight churidar which is paired with dupatta.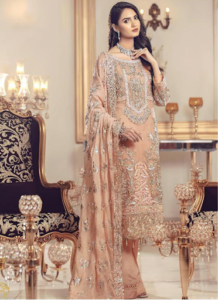 Pakistani Anarkali suit
This is one of the extremely stylish suits in Pakistan and worn by ladies in India. Also it is well known around the world. It has a body shape kurta fitted till midriff and loose at the bottom paired with a churidar and a dupatta. It is a magnificent suit which has been popular since the Mughal period.
Pakistani Flared salwar suit
It is a very comfortable and modern kind of salwar suit which has printed or embroidered work done on it is generally made up of cotton Georgette crepe and silk material it can be paired with a dhoti style bottom wear.
Sharara Salwar Kameez
Sharara salwar kameez has a long straight salwar kameez with pants which have layers that are combined with differentiating the patta of silk or chiffon.. what is a party wear dress generally worn by women for some special occasion it is a great outfit choice for festive celebration.
There are still many more Pakistani  Salwar Suit designs which are very famous and very elegant and are worn by many women as a party wear on daily wear. Most of the women and girls buy salwar kameez from wholesale Pakistani suits online.It reflects Pakistani culture but it is famous in many countries including India.